Surf the MayanToons web page
Welcome to our revamped section on the MayanToons website: the blog. In this new segment, you can learn more about our work, you can get a little closer to our creators and the people who give life to our MayanToons world.
I am Vivian Díaz, the MayanToons project manager since 2014. Today I have the full support of Valeria Avilés, with whom we combine our skills, both mine in environmental and nature issues, as well as her in illustration and the world of design.
In this post, I will give you a tour of our website so you can make the most of it with your children and friends. In the HOME section, you will have a summary of the news, educational material, these blog entries, events, and more.
When you are in the ABOUT US section you will be able to meet the entire team that participates and collaborates in our cartoons, illustrated books, animated videos, and events. In addition, you can learn more about FLAAR Mesoamerica, which is the institution that hosts our project in Guatemala, Central America.
The BLOG segment, this is it! Almost like in a bookstore, in the header, you can choose the topics that interest you the most and you will find readings about ideas that inspire us. Our director and creator, Dr. Nicholas has written about his experiences and observations during field trips and his photography team, you can find out many of his anecdotes here on the Blog.
In the GALLERY you can see photos of the events, donations, activities, and the MayanToons team in action. We have had the joy of seeing the material we create being part of a healthy and family entertainment time. We hope that very soon we will meet again and celebrate life and nature!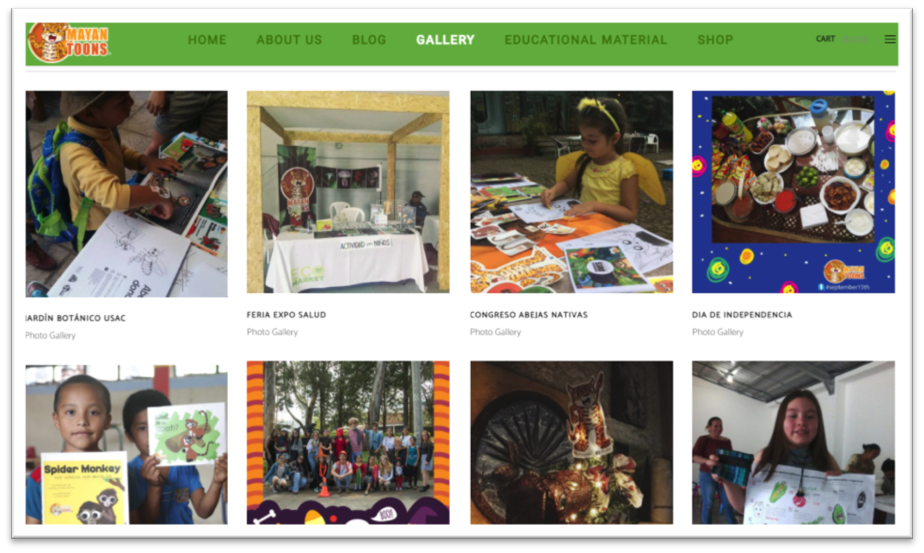 If you browse through EDUCATIONAL MATERIAL you will find a "treasure chest" with lots of material to entertain, play, and amuse the little ones in the family. You can print these resources on different materials and imagine thousands of games with them. Many materials are made for schools in rural areas of Guatemala, but we are sure that any child, with the desire to learn, will be able to broaden his horizons with this unique material.
Last but not least, you will find the SHOP section. Years of research in the jungles of Guatemala have led us to invest time in material with very valuable information. The income that is generated through the sale of books or exclusive material made for certain institutions, helps us continue training the team, to open new job opportunities for students, to have better tools and more technology, in short! All the monetary contributions can become a nice poster, book, or animated episode so that we get closer to the nature that surrounds us and that benefits humans so much.
We encourage you to take advantage of this web portal, share it and help us make it a great place for children.
Stay tuned for our next posts.
Blog prepared by Vivi Díaz and the MayanToons team.
First posted: February 2021.

---