New Infographic Material in MayanToons
One of our goals at MayanToons is to donate graphic and informative material to children and parents. Infographics have proven to be a useful tool to show a specific topic and expose various details about it at a glance. Step by step we are making this goal a reality and when we share them, we will be able to benefit many children and families. Last 2021 we were fortunate to be selected by a Graphic Design student from the University of San Carlos de Guatemala (USAC) as the place to carry out his supervised professional practice.
Brian Leonardo Cuj worked together with the MayanToons team (and the FLAAR Mesoamerica Research team) to prepare twelve infographics on various topics about the native animals and plants of Guatemala. He had the ingenuity and skill to combine the different styles of our artists, even making and adapting existing illustrations. Each infographic has illustrations by Valeria Avilés, Josefina Sequen, Rosa Sequen, Isabel Trejo and Andrea Bracamonte, our Illustrations division.
On behalf of MayanToons and FLAAR Mesoamerica we appreciate the enthusiasm, professionalism and all the knowledge that Brian left us from this experience. We want to share these infographics with you! You can download them for the iPad, smartphone or if you want to print them, you just have to request them by sending an email to
mayantoons@flaar.org
Differences between Crocodiles
Ten aquatic birds of Laguna Yaxha
Differences between bees and wasps
Guatemalan Turtles
What do Bats eat?
My friends from the Forest Floor
My treetop friends
The five felines of Guatemala
The mammals of the Maya Biosphere Reserve
Mushrooms of the Maya Biosphere Reserve
Ten birds of interest in the Maya Biosphere Reserve
Feline spots
Crocodiles are the largest reptiles that live in fresh and salt water in our country. We will be able to learn to differentiate each one of them with the infographic made by Brian with the illustrations of Josefina Sequen.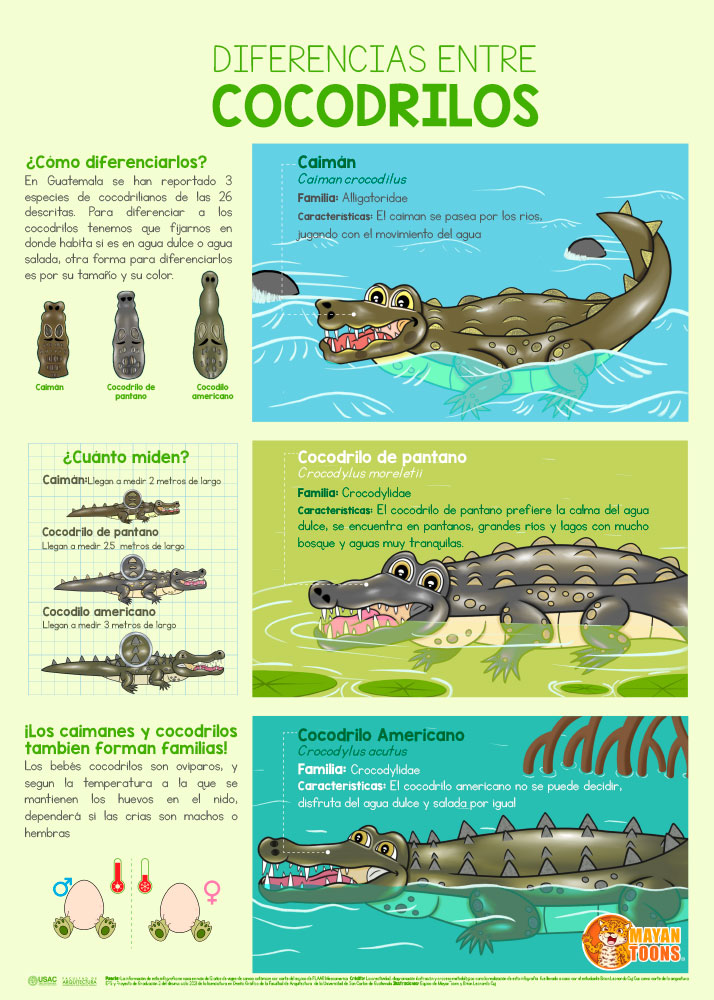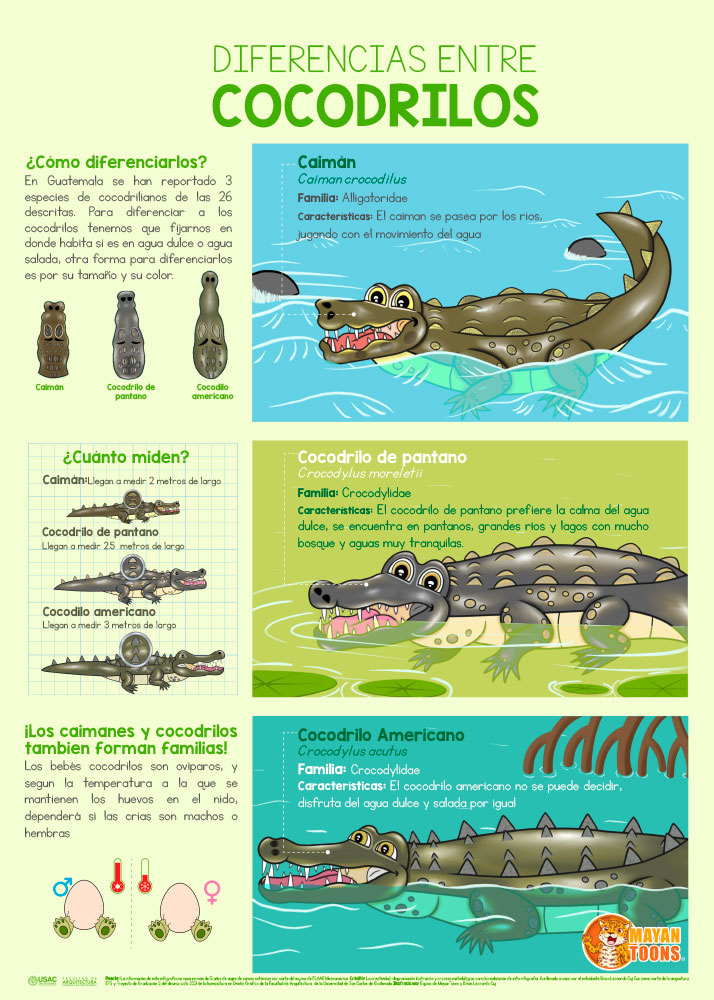 Laguna Yaxha is a paradise for waterbirds. In this natural reservoir many birds find food such as fish, snails and crabs. Use this infographic as a guide when visiting Yaxha, Nakum and Naranjo National Park in Petén.
With this infographic we can differentiate a bee from a wasp and learn about the characteristics that make them unique. They are very interesting insects that benefit humans and all ecosystems.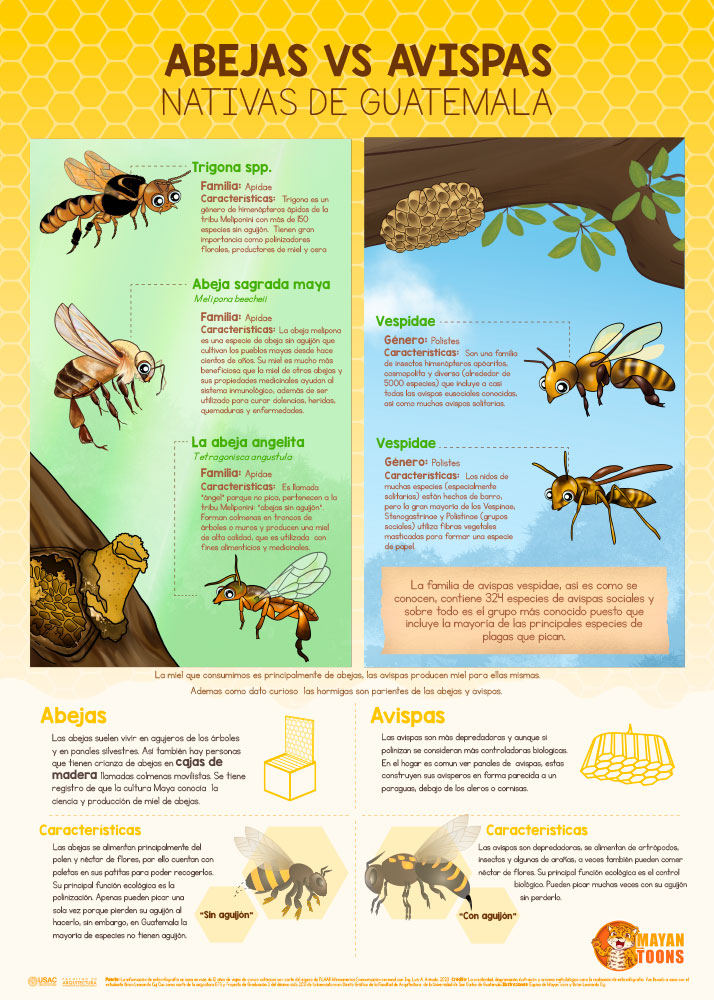 Numerous species of turtles and tortoises live in rivers, seas, lakes and swamps. Let's dive into this infographic to learn about these cute shell creatures.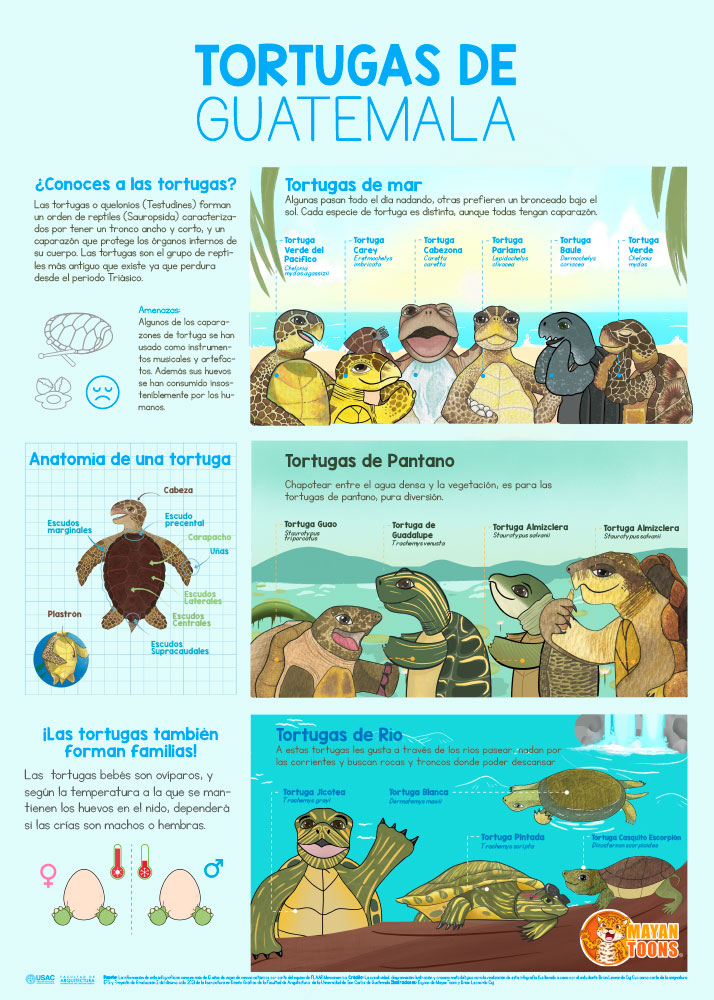 Some of us have the idea that vampires suck blood and in a way, it is true, but did you know that there is one of those species here in Guatemala? Can you imagine that there are other bats that eat fish? Let's see the favorite menu of these flying mammals.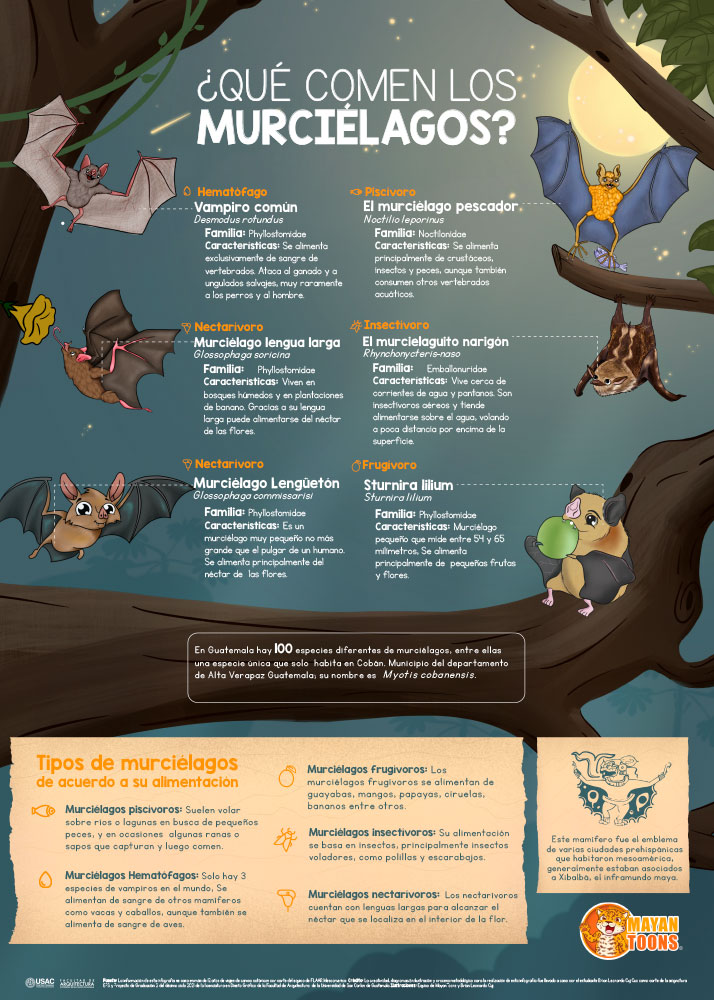 My Forest Floor Friends and My Treetop Friends are infographics created from our episodes by our Animations team at MayanToons. There are cute creatures that live directly on the land, helping us plant seeds and take care of the forests.
Up in the trees there are other animals that find their home, food and a place to hang out and have fun.